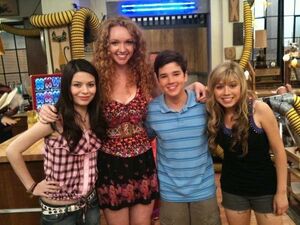 iBeat The Heat
was hinted to be a
Seddie
episode by
Nathan Kress
. It aired on June 26, 2010.
The air conditioners are shut down in Bushwell Plaza, and only Spencer and Carly have air conditioning, thanks to a contraption built by Spencer. Thus, all the residents in the building are forced into the Shay's apartment, because of the unbearable heat, including many guest stars such as Griffin and Lewbert. Also, Freddie invites Sabrina (Gibby's cousin who he had been talking to over the internet) over. But, when they finally meet in person, he discovers that she is over six feet tall, and is uncomfortable dating her. He had seen pictures of her on-line, but none that revealed her height.
Griffin-Sam rumor
Edit
Many people spread the rumor that Griffin hits on Sam to make Carly jealous. This rumor was false. Also in speculation was that Freddie was going to be jealous as well.