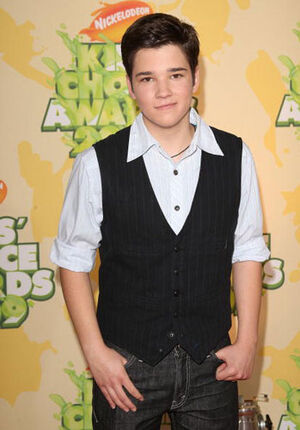 '
Nathan Kress is an actor and plays Freddie Benson on
iCarly. He started acting at the tender age of 3 when his family was noticing his talents and stopped at the age of 6 to "be a regular kid for awhile". Then at the age of 11 he started acting again, and soon landed his main role on Nickelodeons iCarly.
Dan Schneider's Comments about NathanEdit
In the Fun Facts about "iSaved Your Life", iCarly creator Dan Schneider said, "Everyone knows how much Freddie wants Carly, or at least how much he thinks he does. Yet he does not take advantage of Carly when he feels that she isn't thinking straight. That's a gentleman. Nathan is a great role model for kids without being preachy. He brings a lot of his own personal class to his character".
Personal Description
Edit
Full name: Nathan Karl Kress
Nicknames: Nate, Naty
Current age: 19
Birthday: 18 November 1992
Birthplace: Glendale, California, USA
Height: 5'7" and a half
Religion: Christian
Significant features: Good looks, brown hair, purity ring
Education: As of May 25th 2011, Nathan has completed high school
Heritage: German, Scottish, Irish, English, and Welsh
Filmography
Edit
Television
Edit
iCarly - Freddie Benson (2007-Present)
Notes from the Underbelly - Young Andrew (2007)
Drake and Josh - Toplin (2007)
The Suite Life of Zack and Cody - Jamie (2007)
Without a Trace - Young Barry (2007)
Standoff - Young Matt (2006)
Shuriken School - Eizen (2006)
Jimmy Kimmbel Live - Sketch Character (2005- 2006)
House M.D. - Scott (2005)
Bag - Albert (2007)
Magnus Ink - Jacob (2007)
Chicken Little - Additional Voices (2005)
Pickled - Young Brother (2005) Babe, Pig in the City - Easy/Tough Pup (1998)
On the Internet
Edit
He has a MySpace and a Twitter.
Myspace: http://myspace.com/nathankressofficial
Twitter: http://twitter.com/bruindude92
He has his own show called The Nathan Show, the show was a spinoff of All That, which Kress had costarred several years.